This post may have affiliate links. If you click one of these links and make a purchase, we will be paid a commission at no additional cost to you.
Anyone feeling like they need to figure out some fun and creative ideas for creating memories this summer?
I'm not sure if we'll be stuck at home or actually allowed to travel, but I know I want to have a way to create some memories with my boys this summer – even if we end up being stuck at home.
While thinking of this, I decided to research the best backyard fire pits, so I'd be ready when summer arrives – evenings spent outdoors with family (and hopefully friends!), roasting marshmallows around a fire pit.
Here's a compilation of some of the best fire pits every budget!
9 Best Backyard Fire Pits
Landmann Deer Tracks Fire Pit
This is a great budget pick and one of the best fire pits under $100.
Plus, kids will especially love the cutouts on the sides that cast wildlife shadows around the yard! Lots of fun for summer nights.
I especially love that it comes with a cooking grate. I prefer to cook anything I can outside during the summer and this makes it super easy.
Low Garden 23.5″ Fire Pit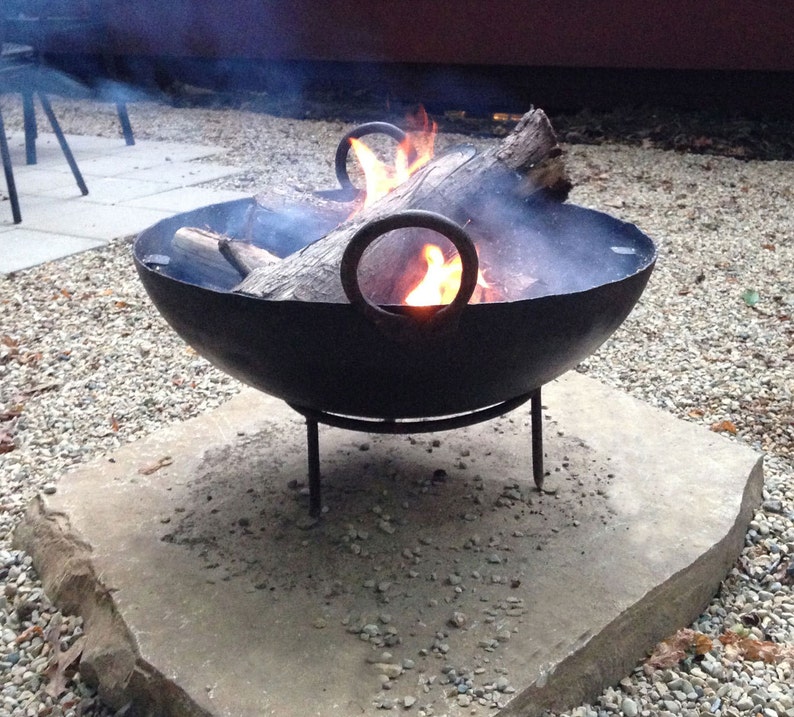 I love the minimalist design of this fire pit – it will look great with any style home or patio.
This firepit is made with steel, so you know it will last. It isn't too expensive either, so it won't break the bank.
A grill grate comes with this firepit, which is great for summer use. You'll love lounging around this backyard fire pit during long summer evenings.
Pop-Up Fire Pit
FIRESIDE OUTDOOR Pop-Up Fire Pit | Portable and Lightweight | Fullsize 24 Inch | Weighs 7 lbs. | Never Rust Fire Pit | Heat Shield NOT Included
The Pop-Up Fire Pit is the first truly portable wood or charcoal burning fire pit. This lightweight, portable firepit makes campfires possible anywhere, anytime which makes it the perfect companion for all outdoor enthusiasts. The Pop-Up Fire Pits state-of-art design allows for quick & easy assembly then collapses & packs away in a moment's notice. It's clean burn technology produces captivating flames and substantial heat output with 80% less smoke for a more enjoyable campfire experience.
ENGINEERING SIMPLE - The Pop-Up Pit sets-up in just under 60 seconds without the use of any tools while still holding up to 125lbs worth of fuel!
PERFECT BURNS - Burning on a fire-rated Stainless Steel Mesh (Fire Mesh) means our fires get perfect airflow. Enjoy brighter, hotter fires with almost no smoke. The Fire Mesh holds up to 125lbs of weight and doesn't allow ash to fall through.
Did you know they make portable fire pits?
This is a great portable fire pit you can take with you on all of your camping adventures – or just easily store in the garage and pull out when you want to use it!
I love how lightweight and portable this fire pit is. I can see us bringing it with us on our camping trips in the summer or even just a quick trip to the beach.
Custom Fire Ring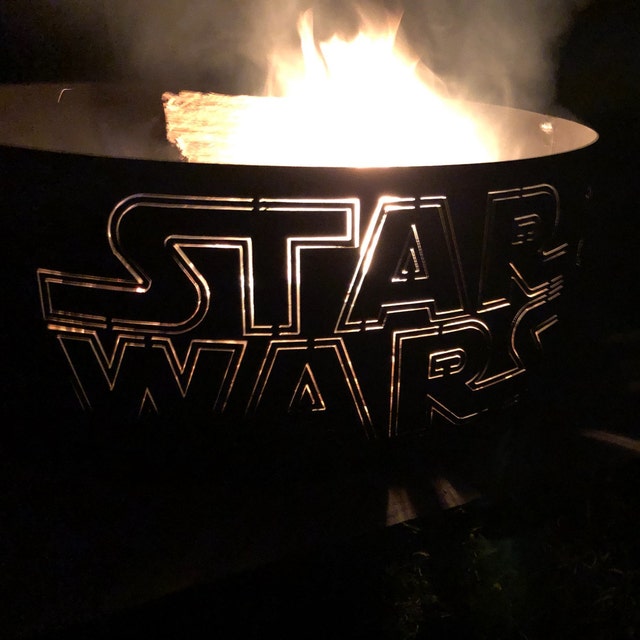 This isn't an actual fire pit, but instead a custom steel ring that goes around the top of the fire pit!
You can have this customized with your name, any number of designs, or whatever you can dream up!
So many different ways you can customize this and it would also make a great gift.
Custom Portable Personalized Fire Pit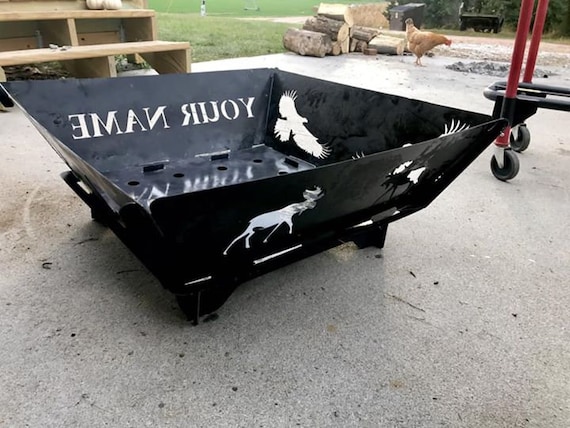 This stunning fire pit is as much a work of art as it is a functional fire pit.
This is another portable fire pit. It breaks down easily so you can stick it in the truck or RV to bring with you.
You can find it here.
Tacklife Propane Fire Table
Sale
TACKLIFE Propane Fire Pit,Outdoor Companion,28 Inch 50,000 BTU Auto-Ignition Gas Fire Pit Table with lid, ETL Certification and Strong Striped Steel Surface, Table in Summer, Pit in Winter
🏆【 Multi-function Fire Pit & Fashion Appearance 】 - When not burning with a fire pit, cover the lid provided, It can be easily converted into an outdoor dining table, coffee table, or casual bar, for more functional experience, fashion appearance corresponds to your garden, courtyard, terrace, balcony
🏆【 Safe & Warm Bonfire Experience 】 - Tacklife 28 inch outdoor fire table is CSA certified, Use propane fuel to provide stable and green burning, so you no longer suffer from ash and smog; The heat output is 50,000 BTU, providing ample warmth and creating a warm and romantic bonfire atmosphere
🏆【 Unique Craftsmanship & Design 】 - The tabletop of natural gas fire table uses multiple processes to spray rust-proof black paint, Bottom steel panel for wicker look, The combination of the two looks very elegant, Unique antique copper art finishes, Easy to move
This propane fire pit also functions as a table!
Yes, you can pick this fire pit up for under $200, and it has two functions in one piece of furniture.
Use it as a fire table to sit around and roast marshmallows and keep warm, *or* put on the cover and use it as a functional table!
Check out more features of this fire pit here.
Outland Living Series 44-Inch Outdoor Propane Gas Fire Pit Table
Outland Living 401 Series - 44-Inch Outdoor Propane Gas Fire Table, Espresso Brown/Rectangle
Perfect addition of functionality and style for your backyard patio fire pits. This stunning rectangular fire Table creates a truly unique fire feature that perfectly compliments any outdoor space that will draw the attention of your family and guests
Product dimensions – 44" L x 32" W x 24" H | Max heat – 50,000 BTU/HR | Tank (not included) size – Standard 20 lb | Clearance – (Top) 80" / (Sides) 36" | Install on (or over) non-combustible floors only, in a well ventilated space and not in any enclosed area
The push button spark ignition system provides simple and convenient control when lighting | Chrome manual control valve allows 100% smoke free variable flame height
This is another backyard fire pit table.
It is beautiful, with glass rocks that reflect the flames. It's guaranteed to add some elegance to your backyard patio.
Lord of the Rings Fire Pit Eye Tower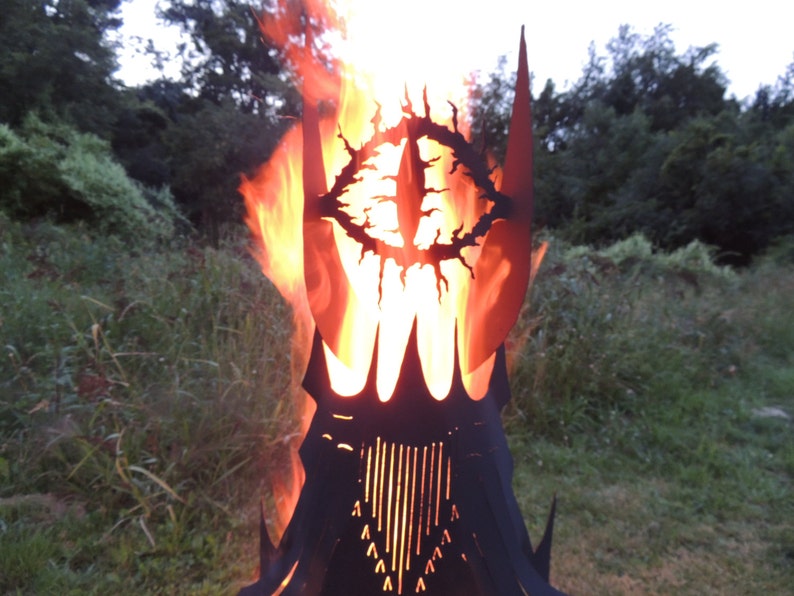 Any Lord of the Rings fans in the house? If so, you'll want to check out this one-of-a-kind (extravagant but incredible) fire pit tower!
This is truly a work of art. This tower measures around five feet tall and two feet in diameter, and is made from heavy-gauge steel.
You'll be sure to be the talk of the neighborhood with this striking piece in your backyard!
Elementi Granville Concrete Table Top Fire Pit
Elementi Granville Fire Table Cast Concrete Natural Gas Fire Table, Outdoor Fire Pit Fire Table/Patio Furniture, 45,000 BTU Auto-Ignition, Stainless Steel Burner, Lava Rock Included
HEAVY DUTY OUTDOOR FIRE PITS – Gas patio heater made from high performance cast concrete is durable and finished to have a high resistance to heat. Brighten up your quality of life with a backyard fire pit as your outdoor centerpiece that will have the reflections of dancing flames keeping you and your loved ones warm and cozy.
BACKYARD FIRE PITS OUTDOOR - Carefully designed outdoor heater measuring 60" L x 27" W x 17" H and weighing 176 pounds with the a firepit ring burner at 30 inches length. Natural gas fire pit producing 45,000 BTUs with a dancing flame of 24 to 26 inches this firepit table for outside will be sure to warm your backyard area.
SAFE AND WARM BONFIRE EXPERIENCE - Crafted with the customer in mind, the patioflame table is CSA & CE Certified. Outdoor fireplace includes firepit canvas cover, lava rocks and stainless-steel burner with electric ignition and auto safety shut-off. Simply turn on your outdoor gas firepit to create flames that radiate brightly against the lava rocks to create a pleasant ambiance.
If money isn't a concern, you might want to pick up this incredibly breathtaking concrete fire table. Sleek, cool, and modern, it would look amazing on a patio surrounded by a nice patio set.
I can definitely envision sitting by this fire table with my morning coffee (or my evening glass of wine!).
I hope you found the perfect fire pit for your backyard.
No matter what fire pit you choose, get ready to be the designated neighborhood gathering yard for kids and adult alike.
It's hard to resist the pull of a nice fire in the evening – especially if there are smores involved!